Prayer Breakfast 2023
Living Water
July 30, 2023
Dr. Simon Nzuzi and Andrea Owen-Boyd visit St. Paul's UMC in Inwood
Evangelism
The Evangelism Ministry of Grace UMC is one of the outreach ministries of the church. We host an annual prayer breakfast, and we join with the UMW in spearheading the church's prison ministry. We also support and promote Bible studies and book studies.
Annual Prayer Breakfast
In supporting the mission of Making Disciples for Christ for the Transformation of the World, the Evangelism Committee hosts an Annual Prayer Breakfast. Our prayer breakfast this year took place on January 28.  Our title this year was "Living Water." 
Prison Ministry
The Evangelism Committee also collaborates with the United Methodist Women in spearheading the Church's Prison Ministry. We welcome you to share in our prison ministry. We donate holiday cards to inmates in Rikers Island so that they may be able to send cards to their families. This year we donated Valentines cards to the youths there; they appreciated our donation. We also donate spiritual books such as The Daily Bread and other books of encouragement.
Eighth Annual Prayer Breakfast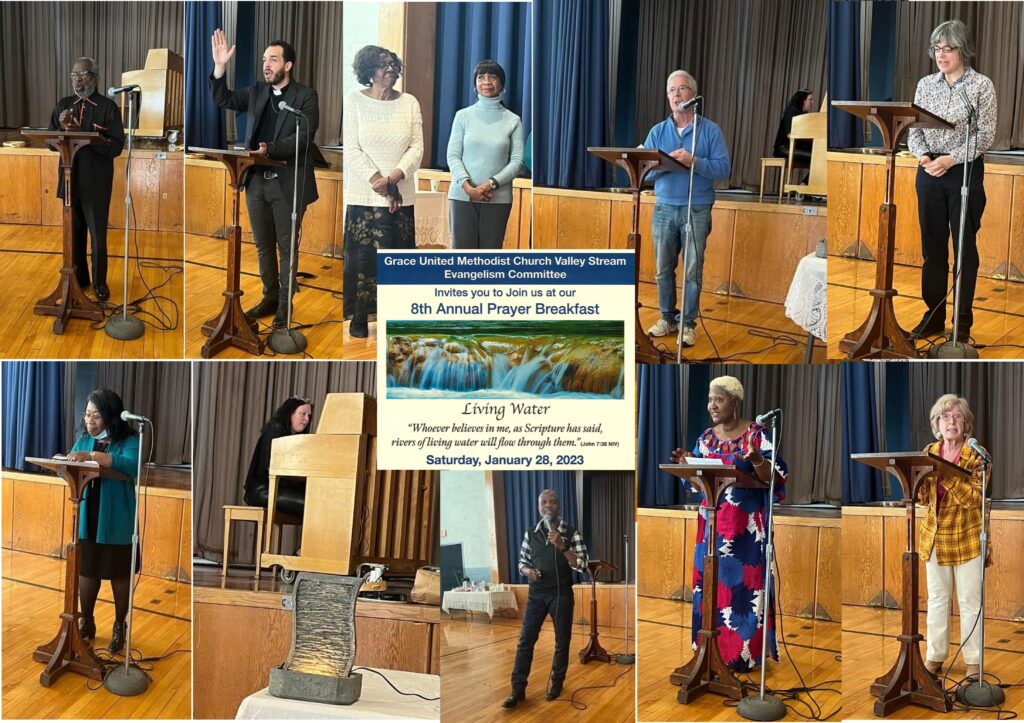 Our Eighth Annual Prayer Breakfast, hosted by the Evangelism Committee on January 28, 2023 was an in-person event and was a wonderful, spirit-filled occasion. We thank all of the participants and everyone who came. Please plan to join us next year!
Order of Worship
January 28, 2023 – 10:00AM
8th Annual Prayer Breakfast
Living Water
"Whoever believes in me, as Scripture has said, rivers of living water will flow through them." 
(John 7:38 NIV)
Blessing of the Meal                                                                        Rev. Dr. Jeffrey Hooker
Welcome and Greetings
Opening Prayer                                                                                                         
Praise Songs                            Kim Neri, Danny Neri and Evangelism Praise Team
Opening Hymn No. 593 – "Here I Am Lord"                                            Chancel Choir Members
Scripture Reading – John 4:7-29                                                          Mahala Holness-Brooks
Ministry in Song – "Living Water" by Kristyn Getty        solo, Kimberly Neri; guitar, Danny Neri
Reflections – Living Water                                                            Rev. Dr. Jeffrey Hooker
Individual Prayers
Love and Growth –  Brian Stone
Forgiveness – Patricia Eshun
True Disciple  – Dr. Simon Nzuzi
Ministry in Music – "The Lord's Prayer"                          solo, Robert DiSalvo
Introduction of Rev. Dr. A. Sherleen Harding                                      Andrea Owen-Boyd
Testimony                            Rev. Dr. A. Sherleen Harding, Pastor, Eagles Wings Apostolic, Stamford, CT
Prayers
Community –  Earl Boyd
Thy Will Be Done – Lenore Kurz
Christian Faith –  Katherine Perkins
Closing Hymn No. 519 – "Lift Every Voice and Sing"  (Please stand if you are able)
Closing Remarks                      Andrea Owen-Boyd
Benediction                              Rev. Dr. Jeffrey Hooker
Acknowledgements
The Evangelism Committee would like to thank all who have participated in this service by offering their ministry in Prayers, Songs, Gifts and Presence.  Thank you for your support for the last eight years.
Committee Members
Charles Gyamfi, Pearl Hamilton, Mahala Holness-Brooks, Frances Ortiz, Maudlyn Scarlett, Tonia Ukanwoke, Andrea Owen-Boyd (Chairperson)
Donna Hartmann, Art Design Flyer
Bob DiSalvo (Chairperson) and Hospitality Committee
Jane Gunther, Del Murray, John Riordan
 Troop 109
Donations can be made to our Church through Venmo using Grace Methodist VS, through Zelle using the Church e-mail – GraceVSNY@aol.com or mail a check to our address – 21 South Franklin Avenue, Valley Stream, NY  11580
GRACE UNITED METHODIST CHURCH
Reverend Dr. Jeffrey L. Hooker
21 South Franklin Avenue
Valley Stream, NY  11580
Church Phone Number:  516/825-1182
Church E-mail:  GraceVSNY@aol.com